Had an hour to kill whilst Tom was in his maths lesson so decided to have a look around Greenhead Park, to be honest wasn't expecting much. Have only been there a couple of times and today was cold and grey and pretty uninspiring but I have decided that I need to take more photos of where we live - it's easy to be inspired when you are away on holiday and I often overlook the things that are right under my nose!


I had never noticed just how beautiful the War Memorial in the park is. Beautiful golden stone, sandstone?, that has weathered and worn.



I loved the combination of columns, curves and squares.



The memorial itself is moving, as they always are. Although not a fan of the techinique whereby you de-saturate all the colours and just leave one but as soon as I saw it in Lightroom could see this photo was crying out for it. Am so cross I just clipped the first "m" though.



Having stuck my lens through the fence to take the photo above I suddenly realised that there

was

a fence, with a gate and a padlock. How awful that the gate has to be padlocked, presumably whilst the poppies are on the memorial, to prevent them being damaged or abused. What a sorry state of affairs.



The cross on the top of the memorial sits on the most magnificent stone plinth.



The whole thing is just beautiful.

The park is being completely overhauled at the moment, loads of muddy footpaths and piles of rock and masses and masses of fencing. Have a feeling its all going to be worth it though.


A lake no less! Restoring one of five original lakes.



The view from the memorial down to the main entrance, all looking a bit tired and unloved right now.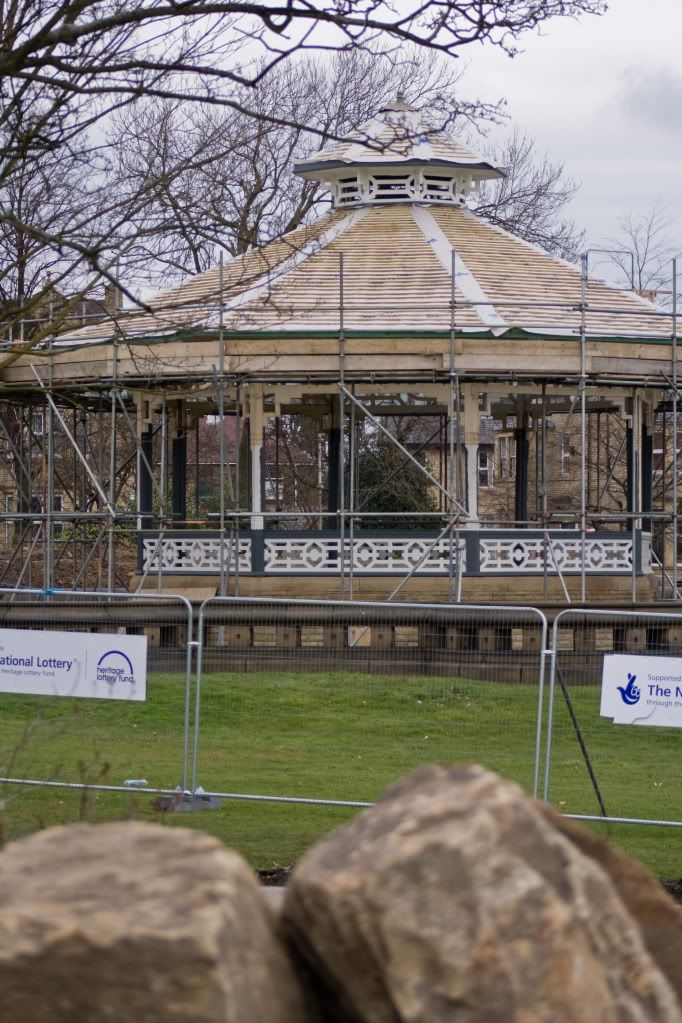 Cant wait to see this finished - there's nothing nicer than a bandstand in the middle of park.



More fencing - this time around the Victorian conservatory - it is a massive structure and again is going to be quite stunning when its finished.



The gentleman was on a plinth behind fencing too so I don't know who he is unfortunately, he is patiently awaiting a bit of a wash and brush up too I imagine!

Will definitely go back and take some more photos as the work on the park progresses, noticed on one sign there is a "Friends of Greenhead Park" group and they are asking for photos taken during the works so will send them a link to this post.